JANUARY 2020

Muro Muro Minde Sherpa Jackets
Black Kampfar "Muro Muro Minde" Sherpa jacket with print on the front and back as well as sleeve printing on both sides. This unisex hooded jacket is made in heavy 280 g/m² quality and has a thick Sherpa lining on the inside.

Shortly available in sizes S – XXL.


DECEMBER 2019

Muro Muro Minde Zipper
For these zippers we will use raw material from Starworld. Starworld is an environmentally conscious brand that produces exclusively according to the specifications of the Oeko-Tex Standard 100 label. That means, products of all processing stages along the textile value chain are tested for health safety and business establishments for socially and environmentally compatible production conditions. The textiles are made of 100% organic cotton, which is grown without any addition of chemicals.

Available in sizes S – XXL in early 2020.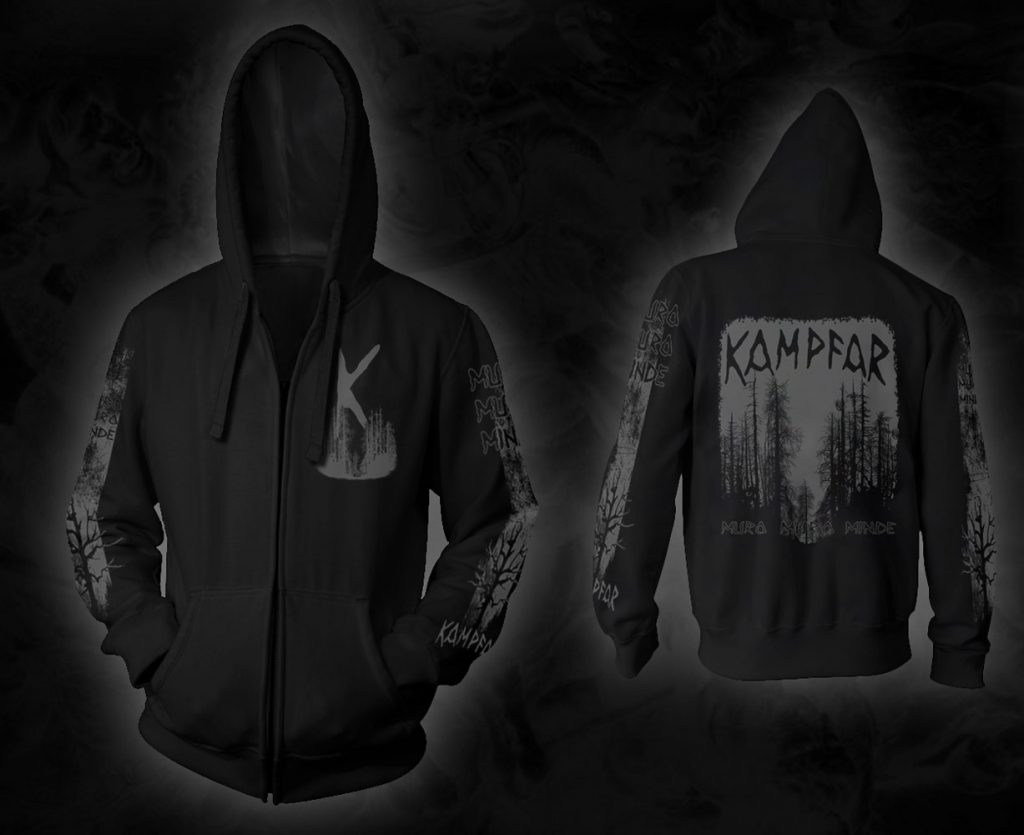 Trucker & Army Caps
Black caps with noble 3D embroidery and metal label with the Kampfar logo.
Deliverable in a few days.


NOVEMBER 2019

Mare Shirt
This is black magic!
This is the devil in red!

Now available.



Metal Pins
The Kampfar Metal Pins are ready and available in the shop now. They consist of a zinc alloy with black enamel and are fastened with a metal clasp.


OCTOBER 2019

Muro Muro Minde (Longsleeve)
The reprint of the Kampfar "muro muro minde" Longsleeves will be available again soon. A black longsleeve shirt with discharge print on front and back side and both sleeves. Available from sizes S – 3XL.


SEPTEMBER 2019

Hemsedal Enamel Cups
White retro enamel cup with silver edge, dishwasher safe.

Volume: 300 ml
Height: 8 cm
Diameter: 8.5 cm


Muro Muro Minde (T-Shirt)
We restocked the Kampfar "muro muro minde " T-Shirts. A black t-shirt with discharge print on front and back side and sleeve print.
Available from sizes S – 3XL.


Trolldomssanger (Longsleeve)
Sold out for quite a while, here´s the new bunch of KAMPFAR "Trolldomssanger" longsleeves. A white longsleeve-shirt with water based print on front and back side and both sleeves. Available from sizes S – 3XL.


JULY 2019

new patches
The new patches in are done. They are woven in high-resolution so that even fine details can be displayed. Available now in the shop.



shipping costs increased
Unfortunately, Deutsche Post raised its prices for insured shipping outside Germany on 1 July.

But, you can save a little by ordering several items, for example:
2 Shirts / Longsleeves: 8,60 EUR for shipping
4 Shirts / Longsleeves: 12,50 EUR for shipping
JUNE 2019
We assure you, we will do our best to have them available again as soon as possible. But, it's festival season, so our printery is working on the limit and needs a bit longer for the reprints. We also urgently need some rest and treat ourselves a holiday from mid-July to mid-August . We kindly ask you for your patience…


Kampfar Patches
The sold out "Muro Muro Minde" and "Ravenheart" patches will be restocked shortly, as well as a new patch with the "Syndefall" design.


Kampfar – Splatter Logo (T-Shirt )
The design for a new Kampfar logo shirt is finished and goes now to printery. Available from the end of August 2019.



Kampfar Merchandise Shop
So, we have June the 21st 2019. It´s one week now that this new Kampfar Merchandise webshop was launched. Thanks for your great response, thanks to all the Kampfar maniacs who already placed an order. As you can see, some items are already sold out or quite low in stock.